Swedish financing and suppliers are currently playing a key role in efforts to open a new chapter for sustainable development in Cote d'Ivoire (Ivory Coast).
In August 2022, a 200 million euro deal to install clean water systems in 1,189 rural villages across the country was agreed – putting Cote d'Ivoire on track to provide safe and clean drinking water to a tenth of the country's population living in rural areas.
MAJOR MILESTONE IN 'WATER FOR ALL' INITIATIVE
The landmark project is part of the local government's 'Water for All' initiative which aims to modernise water infrastructure in remote villages. Today, inhabitants here, typically women and children, need to walk several kilometres to collect unsafe water from wells and riverbanks. But this is all about to change.
"I said a few years ago to Elof Hansson in Sweden, 'it's only a matter of time before we do something big together'. And here we are with a fully financed clean water project that will transform the lives of three million people."
Those are the words of Ram Shalita, CEO at Israel-based company Bluebird Finance & Projects which specialises in export finance solutions in developing markets.
"I was tasked by the engineering and construction firm Baran to arrange the whole finance package for the project. Reliability was the first factor, that's why I chose to approach my contacts in Sweden," he continues.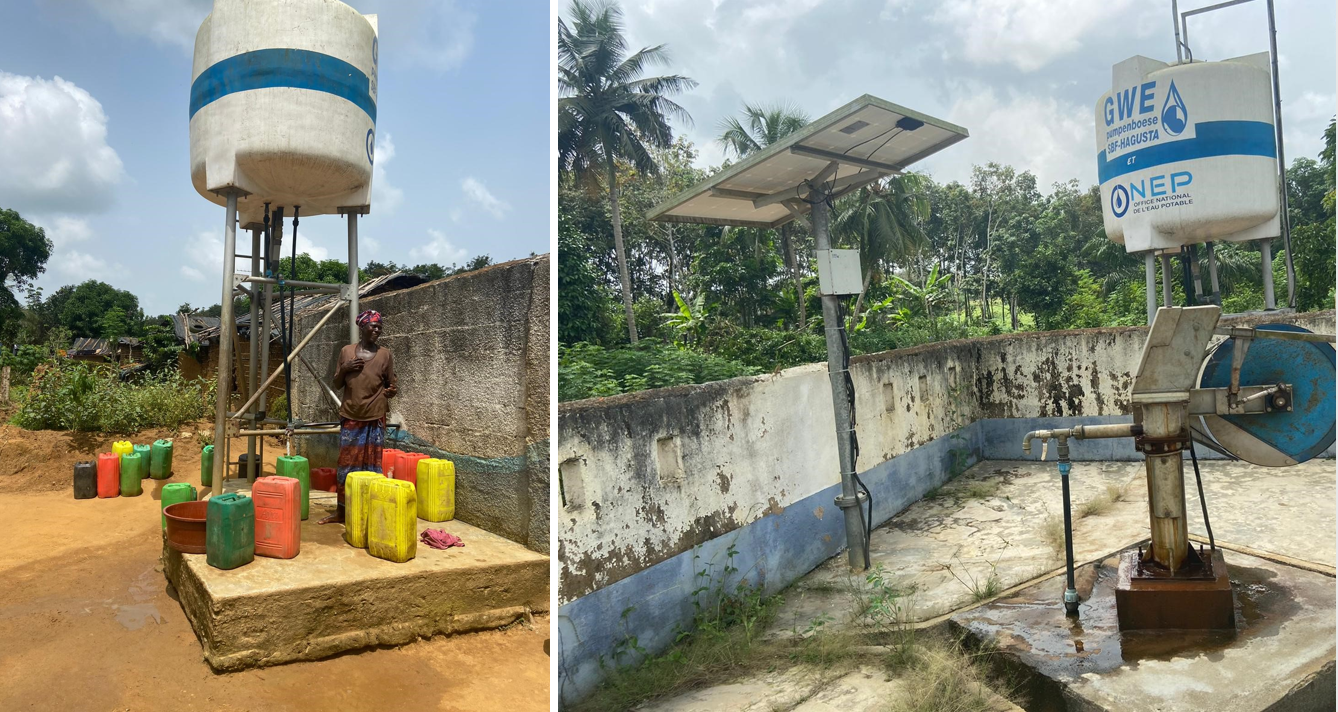 CLEARING THE WAY FOR PROGRESS WITH SWEDEN'S EPC ALLIANCE
By teaming up with Sweden's EPC Alliance, which includes the Swedish trading house Elof Hansson, the Swedish Export Credit Corporation SEK, the Swedish Export Credit Agency EKN and Business Sweden, Ram Shalita could provide his client with both reliable AAA-rated financing and quality sub-suppliers in a packaged solution.
This, he says, gave contractor Baran Group and the Cote d'Ivoire government strong assurance that the project would not only move forward, but also that the clean water systems will remain operational for many years to come. In total, the installations involve pipes, 80-120 m deep boreholes, pumps, valves, watertowers, control systems and solar panels.
"The new water systems will be centrally located in remote villages which makes the project unique. Most water projects in Africa involve treatment plants in big cities."
"Finding an export credit agency that doesn't pull out was crucial. EKN is a reliable partner who offered a fixed interest rate. Without this, we wouldn't have closed the deal. Another success factor was the good collaboration with Elof Hansson who found relevant suppliers that the contractor could work with," Shalita adds.
We definitely want to do more projects with the Swedish alliance. It's a win-win setup. The financing solution is very competitive and the quality of Swedish suppliers, while more costly, is always unmatched.

A WINNING FORMULA FOR SWEDISH EXPORTERS
The funding process for large-scale infrastructure deals in Africa is complex and involves multiple stakeholders. The Cote d'Ivoire water project, which has a tenor of 16 years, combines 55% financing from KfW Ipex-Bank and 45% from Sweden's export credit agencies EKN and SEK, with reinsurance by the Dutch company Atradius.
Björn Olausson, President at Elof Hansson International, and his team were responsible for sourcing the right suppliers to meet EKN's criteria of securing 30% Swedish content to approve the deal.
"The Swedish export credit system is both highly competitive and robust with guarantees from the Swedish National Debt Office. Projects like these provide Swedish small and medium-sized companies with a fantastic opportunity to gain experience and an export footprint in Africa with zero risk," he says.
The winning formula for getting Swedish suppliers on board, Olausson points out, is that his company Elof Hansson acts as the intermediary and makes all purchases in Sweden. In addition, EKN's strict sustainability criteria guarantee that the projects live up to the highest standards in line with the UN's goals.
A major supplier convinced by this benefit was the Gothenburg-based construction company Serneke which is providing a range of services for the water systems.
"We are now gearing up to deliver one thousand solar-powered borehole systems with high quality. In villages where there's barely roads, no water and electricity, you need to make sure that systems are well-made, assembled correctly and long-lasting," Olausson explains.
GREEN PROJECTS ON THE HORIZON
As part of the EPC Alliance, Elof Hansson is currently involved in five different projects in Africa and one in Latin America, and is collaborating with Bluebird on three of them. Over the past six years, Bluebird has arranged 1.7 billion euro in loans for infrastructure projects in Africa involving roads, railways, hospitals, water systems and irrigation for agriculture.
Read more about Sweden's EPC Alliance here.
Photo credit: Bluebird Finance and Projects