The momentum is rising for Angola's mission to expand its energy grids and bring renewable electricity to the country's population of 32 million people, in rural villages and cities alike.
The latest development is a 370 MW solar megaproject – the largest of its kind in Sub-Saharan Africa – involving one million solar panels and an investment of EUR 560 million.
Over the next two years, a total of seven solar parks will be built across Angola by a consortium consisting of the American developer Sun Africa and the Portuguese EPC contractor MCA Group, backed by a financing solution from the Swedish Export Credit Corporation (SEK) and the Swedish Export Credit Agency (EKN).
Dire need for energy transition
Sub-Saharan Africa has the lowest energy access rates in the world. According to the International Energy Agency, the region is home to approximately 600 million people without electricity. And the problem doesn't end there.
Around 70 per cent of the region still relies on charcoal, firewood and other biomass fuels that are toxic both to the environment and public health.
Expectations are now high that Angola will spearhead a new era with its ambitious agenda for renewables. The solar project currently underway will help many rural communities abandon diesel generators and other polluting sources of energy and heating while advancing a sustainable energy future for all with affordable, reliable, and sustainable energy, in line with the United Nations Sustainable Development Goal No. 7.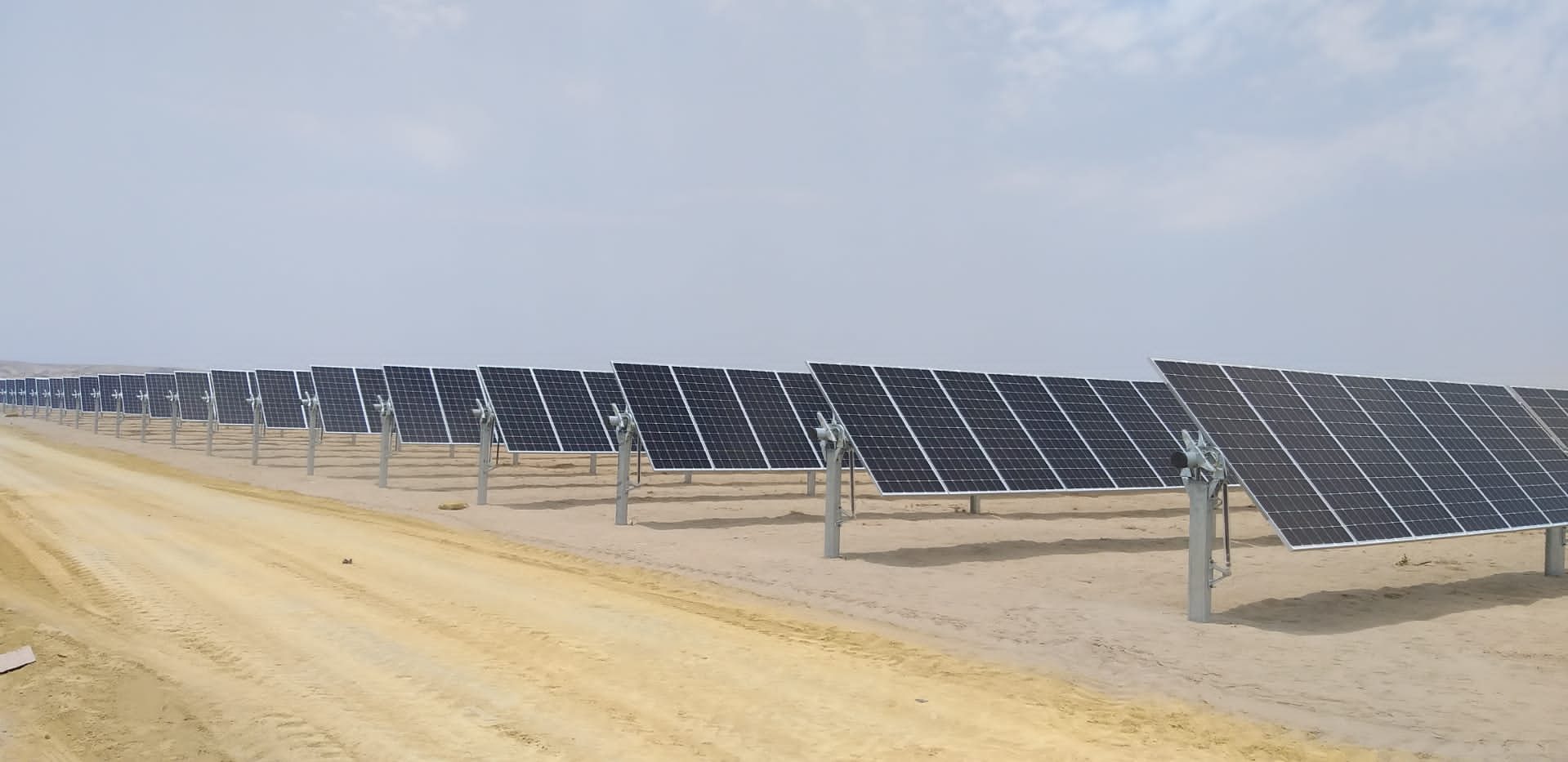 Key to progress: suppliers and financing from Sweden
The solar park contractors Sun Africa and MCA are joined by Hitachi Energy in Sweden which will provide the electrical infrastructure they based on an in-depth grid impact study into the unique requirements, which in advance determined the best way to achieve the ambitious integration of the Government of Angola's renewable energy program.
The company's so-called 'Power Blocks' have been custom-made in Sweden and mounted on skids, now ready for shipping. "We've built a plug-and-play solution that converts direct current from the solar panels to alternating current that can be distributed through the grids," explains Torben Sjöholm, Regional Sales Manager, Hitachi Energy in Sweden.
"60 percent of the Power Blocks have been shipped out to Angola and by delivering two units per week the remaining Power Blocks will be in Angola soon," says Peder Pedersén, Project Director for Hitachi Energy in Sweden, who just has come back from two weeks of site visits and customer meetings in Angola.
"The first two sites are progressing well and are in the process to erect and install solar panels, buildings and equipment," Pedersén continues.
In addition, some 15 Swedish companies are attached to the project supplying everything from the steel structures that hold the solar panels to buildings, fencing, cabling, perimeter security as well as shipping and logistics, all coordinated by the Swedish company Elof Hansson which has taken a trading house role.
Among these suppliers is Sweden's largest steelmaker SSAB in Borlänge which was awarded a contract to deliver 6,000 tons of steel to Angola.
The broad Swedish engagement in the project is a direct result of successful collaboration in the EPC Alliance, an initiative launched in 2019 by Business Sweden, EKN and SEK – which today offers packaged solutions including export credit financing. The objective of the alliance is to win projects globally, with an EPC (Engineer, Procure and Construct) company in lead supported by Swedish companies.
"Getting financing in place is a major challenge in high-risk markets like Angola," says Tommy Östling, Senior Customer Finance Advisor at Hitachi Energy in Sweden.
"We established contact with Sun Africa and proposed the idea of applying for export credit financing from Sweden. Together with our partners in the EPC Alliance we rolled up our sleeves to put together a solution that combines Swedish suppliers with competitive financing with as long as an 18-year repayment period," Östling adds.
Broadening the scope
EKN's requirement for financing projects of this kind is that at least 30 per cent of the content is supplied by Swedish companies. Hitachi Energy 's contribution went half-way towards meeting that goal.
"That's when the trading house Elof Hansson stepped in to help get more Swedish suppliers on board, which was absolutely essential to secure the financing," says Torben Sjöholm.
This challenge involved screening the Swedish market for potential suppliers and convincing risk-averse decision makers who were not used to exporting to Africa. While most companies were intrigued, the stakes were perceived to be high.
As Björn Olausson, President at Elof Hansson, recounts, there were plenty of issues that needed addressing – not least how smaller suppliers would get paid.
"The key here was our offer to purchase their products in Sweden and then re-sell to the solar park contractors, thereby eliminating financial risk for Swedish SMEs. We also had to convince them to adapt their products according to tricky specifications," he says.
Checking the sustainability box
Sweden's credit guarantees come with further criteria. Export goods must contribute to sustainable business in all its forms, ranging from environmental issues to human rights and anti-corruption. Sustainability credentials are carefully scrutinized before any financing deal is approved by EKN and SEK.
The collaborative efforts of Team Sweden – including Business Sweden, EKN, SEK and the Embassy of Sweden in Luanda – were invaluable in this context according to Hitachi Energy.
"Africa can be a particularly risky environment when it comes to safeguarding transparency and business ethics. As such, it makes a huge difference when we take a united approach together with Sweden's official agencies. This makes it much easier for us to build trust at every level of decision-making and to win these types of contracts," Torben Sjöholm points out.
"There's currently a lot of interest in green investments worldwide, but you have to make sure that responsible business practices are upheld at every step. The Swedish export credit system is unmatched in this regard."
A feather in Sweden's cap
Angola is the second largest oil-producing country in Africa after Nigeria. The switch to solar energy not only represents a leap forward for environmental sustainability but will also facilitate reliable energy access across the nation.
Until now, blackouts have been a frequent problem and many rural areas, especially in the south of the country, have no access to grids.
The first two of the seven solar parks will be located in the Benguela province and are due to come online on the main grid in late 2022 when it will power homes, schools and hospitals with clean electricity.
The Swedish partners in the EPC Alliance take great pride in the success of the project.
"It's been a very inspiring journey. It would have been very difficult for the two main contractors to have negotiated directly with a large number of Swedish suppliers on these terms. The efforts of the EPC Alliance were instrumental to getting the financing approved," says Tommy Östling at Hitachi Energy.
The efforts of the EPC Alliance were instrumental to getting the financing approved.
Similar sentiment is echoed by Björn Olausson at Elof Hansson, who underscores the positive spillover effects for Swedish exports and job creation. Had it not been for the EPC Alliance, suppliers to the project such as Boxholms Profil (steel profiling) and Prysmian Group (electrical cabling) would not have been able to export. The future for Swedish solar, he says, is undoubtedly looking bright.
"So far, Sweden has no large-scale manufacturing of solar panels. But we have top-tier suppliers for all the surrounding infrastructure. The Angola project has generated a lot of interest and by joining forces with Business Sweden, EKN and SEK, we can present a very competitive and attractive packaged offer in other complex markets.
"The results we've seen have boosted our confidence. As part of the EPC Alliance, we are now looking to start up four additional projects over the next six months in Africa and we are also pursuing projects in Asia and Latin America," Olausson concludes.
Photo credit: Hitachi Energy/MCA