Intuitive is the global leader in minimally invasive care and a pioneer of robot-assisted surgery for a wide range of clinical indications.
Robotic surgical systems are becoming increasingly important in hospital operating rooms across Europe. In Sweden, renowned for its first-class life science research, some 10,000 male patients are diagnosed with prostate cancer every year. Among those whose treatment involves a radical prostatectomy (prostate removal), no fewer than 97 per cent receive robot-assisted surgery, according to Swedish registry data.
But as David Lang, Regional Director for the Nordic countries at Intuitive Surgical, points out, the word to emphasise is 'assisted'.
"We're not talking about robots carrying out surgery autonomously. Instead, the surgeon is comfortably seated at a control console at a close distance to the patient in the operating room. The robotic arms are equipped with instruments that carry out procedures with extremely high precision," he explains.
INTUITIVE ESTABLISHES NORDIC HUB IN STOCKHOLM
Based in Sunnyvale, California, Intuitive recently decided to set up a new Nordic Hub in Stockholm to continue supporting surgeons in their important mission to offer patients less invasive care with robotic-assisted surgery.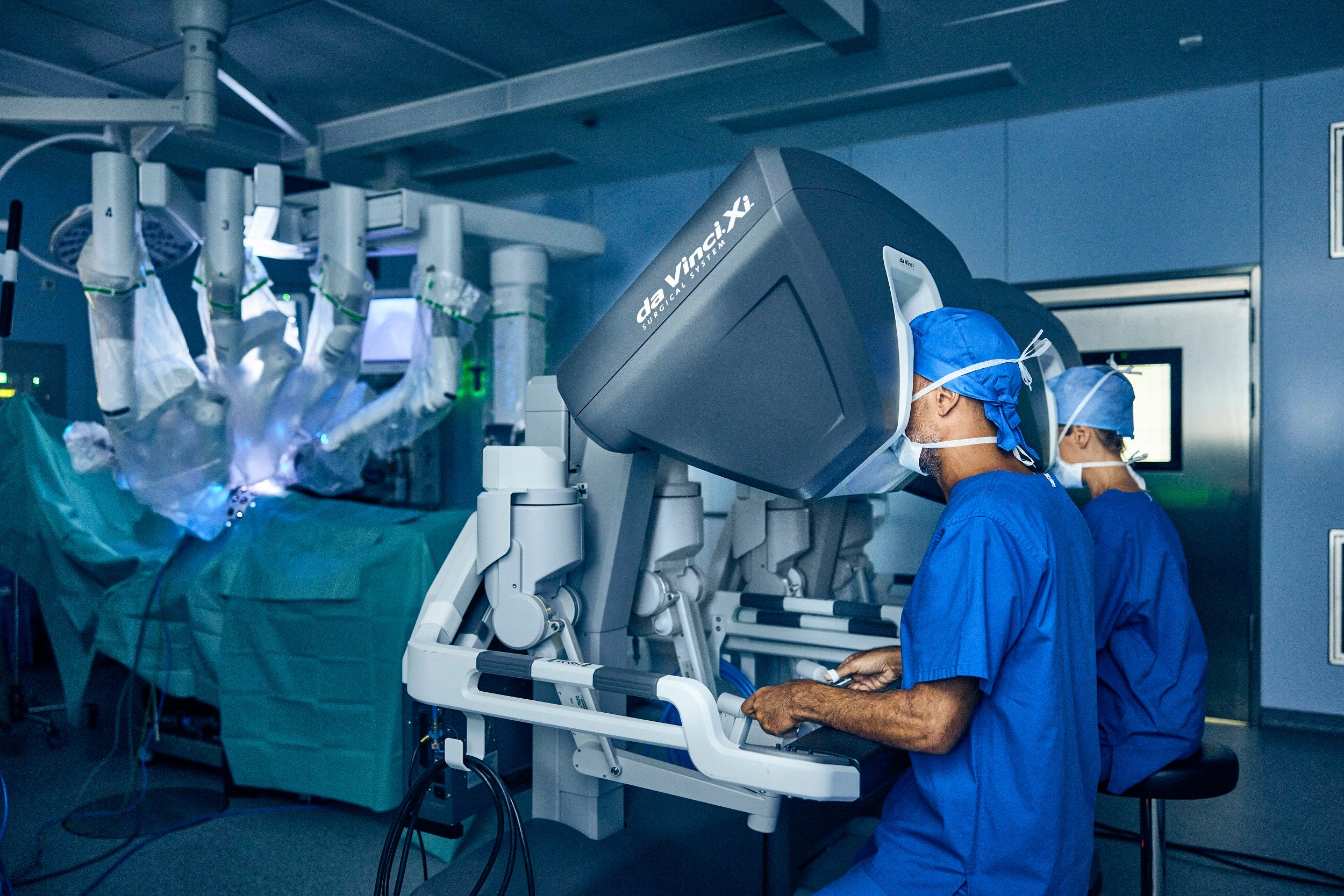 Choosing to expand in Stockholm was a logical step says Lang, underscoring that Sweden was an early adopter of the company's groundbreaking technology. First launched in the mid-90s, the design has been further developed and now incorporates a state-of-the-art robotic system, integrated intelligence, and a comprehensive unified ecosystem. Worldwide, a surgeon begins a da Vinci procedure every 16.8 seconds.
"Professor Peter Wiklund at Karolinska University Hospital pioneered the use of our da Vinci system in the field of urology in the early 2000s. Intuitive has recently established a robotic-assisted training centre at the Karolinska facility."
Sweden, along with its Nordic neighbours, is a key market for Intuitive in terms of early adoption for minimally invasive care
To get support in the evaluation process for Intuitive's expansion, the company contacted Business Sweden's life science team who provided market data and guidance.
"We received fruitful information as we made the decision to further establish Stockholm as a hub for our Nordic region. Business Sweden has also been very helpful in terms of connecting us with local and national stakeholders," he adds.
EXPANDING THE USE OF SURGICAL ROBOTS
While the idea of robots assisting surgeons may have seemed like science fiction three decades ago, over 12 million patients worldwide have been treated with da Vinci and there are currently over 34,000 peer-reviewed publications referencing the technology.
Benefits include more precision, less damage and pain, faster patient recovery, better ergonomy for surgeons and significant holistic cost savings.
Now, Lang and his team are on a mission to increase access to robotic-assisted surgery for more patients in the Nordics, in particular patients with benign conditions where less invasive surgical methods could bring clinical benefits.
"By scaling up our presence in Sweden and the other Nordic countries, we can better understand local healthcare challenges and needs, and how we can help address those."
A PLATFORM FOR RAISING AWARENESS IN EUROPE
The Swedish capital has a global reputation for being a leading life science hotspot with Karolinska University Hospital ranking among Europe's best and among the top ten hospitals worldwide.
According to David Lang, Intuitive's new Nordic Hub will provide an important platform to raise awareness and further make the company's technologies and solutions available to the healthcare sector.
While the major hospitals in the Nordic countries are already using the da Vinci robotic-assisted system, the timing is right, says Lang, to further scale the use of minimally invasive care.
The Swedish government has not only launched a strategy to improve healthcare efficiency but also pledged to invest more in women's health, to improve treatments for endometriosis and other conditions.
"Many women could benefit from minimally invasive care which we believe is life-enhancing. Instead of spending a week in hospital, patients who receive robotic-assisted surgery can often be discharged on the very same day," he points out.
"We are seeing great interest from surgeons to expand the use of robotic-assisted surgery into general surgery. I think Sweden and the other Nordic countries will continue to be in the forefront when it comes to the application of robotic-assistance in healthcare."
"Our collaboration with Business Sweden will continue as we further develop our local activities," David Lang concludes.


ABOUT INTUITIVE
Intuitive Surgical, Inc., headquartered in Sunnyvale, California, is the pioneer and a global technology leader in robotic-assisted, minimally invasive surgery. Intuitive develops, manufactures and markets the da Vinci surgical system which is currently in use in more than 70 countries. Intuitive has around 12,000 employees worldwide.