More than 20 million companies have so far been put on blacklists facing more frequent inspections, inability to access government funding or answer tenders, and legal representatives facing travel restrictions. Based on Business Sweden analysis, Swedish companies are usually performing very well – our 2021 Business Climate Survey revealed that 83 per cent of Swedish companies had not noticed any impact of the system – but the systems' impact on partners, suppliers and customers represents a significant network risk and potential change to the Chinese business landscape.
Impact of corporate social credit system on Swedish companies in China
Question: How has the Corporate Social Credit System impacted your company in China? (multiple choice)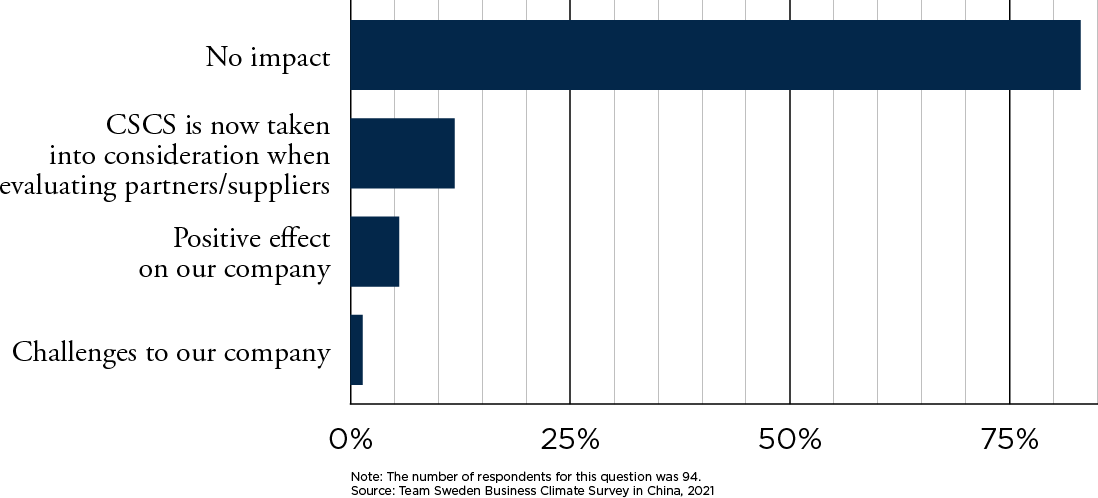 INCREASINGLY STANDARDISED
For a system that was intended to create market order, there has been high levels of uncertainty around the Corporate Social Credit System due to lack of national standardisation. In order to address this issue, the National Development Reform Commission (NDRC) in July 2021 issued draft documents that more clearly define the boundaries and extent of the system. These documents list out 11 types of information that will be added to every company's social credit profile, and it lists which government department will be responsible for collecting the data.
Knowing exactly what will be expected of them in terms of reporting and compliance, Swedish companies can now start to do a thorough review of their China operations. Even companies with very light exposure to China can be impacted, as the refocused energy of the CSCS and rooting out 'bad elements of the market' means many suppliers are in danger of being blacklisted and forced to exit the market. Companies should work pro-actively in addressing potential risks, as the new standards also addresses how to restore credit in the system.
While the Corporate Social Credit System could lead to business disruption, it is also a useful tool that Swedish companies can utilise when reviewing the trustworthiness of customers, partners, and suppliers – transparency and public disclosure is a key part of the system. Less than 15 per cent of respondents to our Business Climate Survey reported that they were using it today when evaluating partners and suppliers, showing a lot of room for improvement.
A system where everything is convenient for the trustworthy, and the untrustworthy are unable to move even a single step.
Assessing the impact of china's corporate social credit system on your business
With the Corporate Social Credit System re-emerging as a market regulation priority in China following a post-pandemic return to 'normal', it is more important than ever for Swedish companies dealing with China to understand how the system works and what is expected of them in terms of compliance. It is also key to extend the analysis to look at key suppliers, partners, and clients to understand the market landscape.
Business Sweden recommends all Swedish companies to do the following:
Gain a deep understanding of the system with dedicated resources tracking compliance – in the national system, but also if you are covered by a local version that may have additional standards
Look up your company's current profile in the system – many times companies are not aware about what is listed on their public profile
Take active steps to remove black-listings and restore credit if you have any negative remarks, it will have material impact on your operations in China
If you have positive remarks (so-called 'red listings'), use it as an active part of your promotion and marketing when dealing with clients and suppliers
Analyse your key partners, suppliers, and clients to see their profile – black-listings might indicate that they will face challenges in the market. Have open dialogue on implication of this, and how to restore social creditworthiness
The system is intended to be used by the public and discloses information about companies you might be looking to partner or deal with – use it as an additional source for carrying out due diligence or on-boarding of new suppliers
If you would like to learn more about how your company can work more pro-actively with the Corporate Social Credit System, please contact us for further discussion.