Business Sweden, has with the help of an external actor and Statistics Sweden, carried out a study of the effects of the Small Business Programs' initiatives. The impact study is based on a register data analysis which included 3,841 companies that participated in one or more services during the years 2011-2020. In order to identify how the initiatives affect the companies, a comparison has also been made with a control group consisting of twin companies with similar characteristics, but which have not taken part in any of the Small Business Programs' initiatives.
Compared with the control group, the participating companies have, after three years:
increased turnover by an average of 27 percent

increased number of employees by an average of 6 percent

increased export sales by 31 percent


The increased economic activity in the companies also has spillover effects to other companies and parts of society. Three years after participation the increased economic activity that has arisen in the companies as a result of the participation corresponds to:
Increased turnover levels of almost SEK 17,5 billion.

Increased number of jobs corresponding to almost 10,000 full-time equivalents.

Annual tax revenues corresponding to SEK 1,9 billion.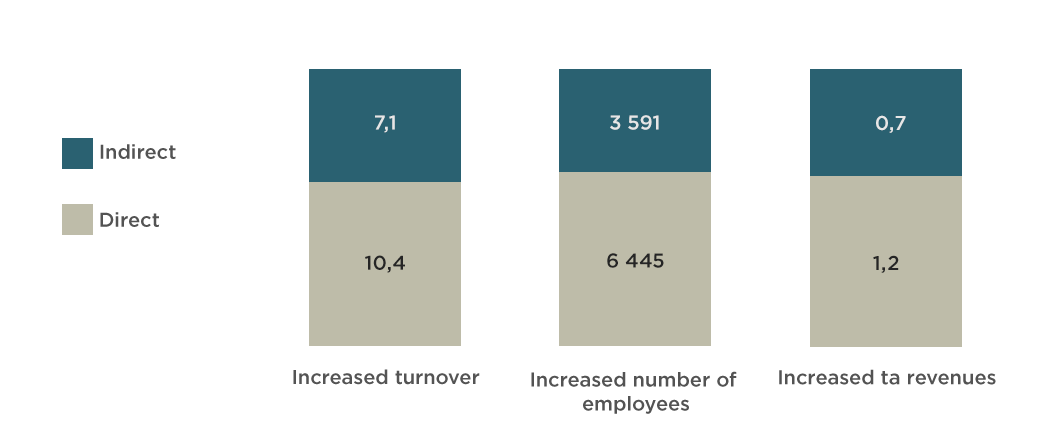 The export promotion initiatives thus show clear effects for the Swedish economy. During the period 2015–2021, the assignment for the Small Business Program amounted to an average of SEK 84 million annually. Business Sweden's assignment from the Swedish government is very important for us, Swedish companies and for Sweden. Sweden is an export-dependent economy and by helping Swedish companies to increase global sales and international companies to establish themselves and invest in Sweden, we can support economic growth and employment and continue to increase Swedish competitiveness.
The results of this measurement prove how our efforts provide small businesses with a springboard to global sales. By offering tailored services and practical support in more than 40 markets, we help companies minimise risk, quickly establish their presence and win new customers.
Read more about how we can support small and medium sized enterprises here.