To increase the health awareness of the population, the Chinese government introduced a national health strategy in 2016 called "Healthy China 2030". The strategy aims to, amongst other things, encourage people to adopt a healthy lifestyle and includes ambitious goals such as making 30 per cent of the population health conscious. To reach this goal, education as well as detailed suggestions such as dietary intake of salt and dietary oil, have been introduced to increase health awareness.
The increased awareness of benefits from exercise and healthier eating has shifted consumers' mindsets, and the demand for healthy food as well as health supplements has increased, providing opportunities for food and beverage companies with healthy products.
However, with changing consumption behaviours, companies also need to understand the implications in order to align their offerings with demands to succeed in the market.
Clean labels with healthy and functional food on the rise
In recent years, consumers in China have increased their spending on products related to health and lifestyle and the sales of organic food has seen a 125 per cent increase since 2015, reaching 80.5 billion RMB in 2020.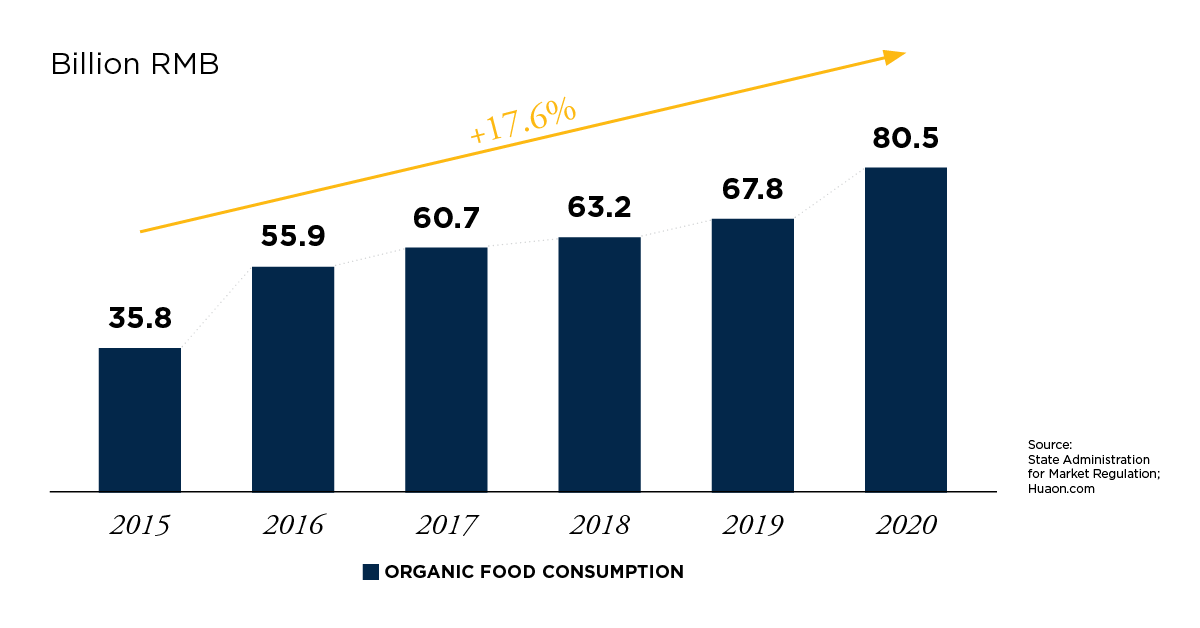 Organic food consumption in China, 2015-2020
Content of the food and how it is produced has also become more important. This has led to a trend in products labelled as clean, organic, not containing any preservatives, all-natural, and similar, becoming some of the fastest growing categories. Consumers have also started to desire higher quality consumption experiences, preferring recognizable products associated with a country's heritage and culture. As such, live streams from farms and factories showing the production process have been very successful marketing tools for F&B products, given that they show the origin and production of the products.
More consumers are also aware of the risks associated with consuming excessive amounts of salt and similar ingredients and are adjusting their intake. Food products such as those with lower sodium levels have consequently seen steady growth in the market.
Functional sport and fitness food, previously consumed mainly by professional athletes and bodybuilders, are now to a larger extent also entering mainstream consumption following the development of the fitness industry of China. Products such as protein powder that can help increase the effect of exercise have gradually become more popular, with high-protein and low-fat food now seen as popular categories among wider customer groups than before.
Use of targeted health supplements spreading across age groups
The Chinese market for supplements is the second largest worldwide and has since 2015 shown a yearly growth averaging 6.7 per cent, reaching 176.3 billion CNY in 2020. The use of health supplements in China is increasing and spreading across age groups, with changing demands on functionality, dosage, as well as ways of procurement.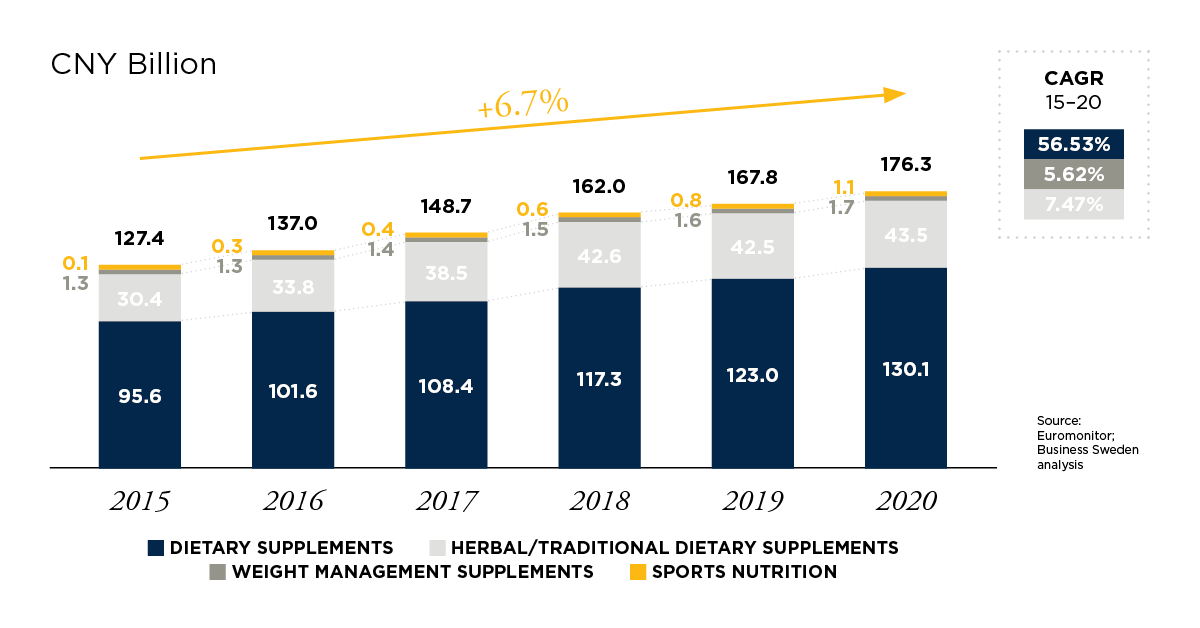 China's health supplements market size, 2015-2020
Although the elderly population historically has been the main consumers of supplements in China, increased focus on self-care and increased purchasing power among the younger generation has turned them into a more important customer group. They are now also playing a bigger role in the purchasing decision for the extended family, not only purchasing for themselves, shifting the consumer group to now span across all age groups.
Chinese consumers are also increasingly looking for supplements that cater to specific needs, in addition to traditional supplements such as vitamins and mineral supplements. Because of this, there has been an increase in the share of consumers using multiple supplements, from 21 per cent of consumers buying more than two types of supplements to 29 per cent between 2018-2020.
Compared to traditional intake in the form of pills and capsules, supplements in the form of snacks and small packaged is now on the rise, with e.g. collagen gummy and vitamin candy both experiencing double-digit growth during 2020.
Product information is a crucial factor for the purchasing decision
When it comes to the purchasing process itself, Chinese consumers are becoming increasingly rational and are searching for more information before purchasing imported food, beverages and health supplements. Brand recognition, product efficacy and product safety are key factors that influence Chinese consumers' purchase decisions.
However, due to the large amount of information available, word-of-mouth is seen as the most trusted information channel, with key opinion leaders (KOLs) playing an essential role in the marketing efforts with their strong bond to their followers. As such, e-commerce platforms that enable interaction among consumers exhibit a higher conversion rate compared to other online channels.
E-commerce has in recent years become the largest sales channel for imported food, beverage and supplements in China, today accounting for 40 per cent of the total sales of supplements. Cross-border e-commerce, a specific government policy rolled out in China to provide foreign brands easier access to the Chinese consumer market, has also emerged as an important sales channel for foreign suppliers, especially in food, beverage and supplements as no Chinese label CFDA filing or registration is required.
The Health by Sweden cross-border store can provide access to the opportunities on the Chinese market
Shifting consumer demands and trends towards a more active lifestyle in China provide opportunities for companies with products that enable such a shift. However, as Chinese consumers are increasingly selective with what they purchase, being recognized as a product associated with a specific country's heritage and image could be seen as positive.
To Chinese consumers, the Swedish brand is associated with quality, safety, sustainability and health, providing an opportunity for Swedish providers to build on. Yet, the Chinese market is complex, and a potential entry needs to be evaluated, planned for and executed on with care.
Business Sweden is now launching a Health by Sweden cross-border store on Tmall Global, one of China's largest B2C e-commerce platforms, providing access to the Chinese market for healthy Swedish food and beverage companies. Leveraging the Swedish brand and a joint value proposition, the store opens up the Chinese market for brands both with an existing presence in China as well as for new entrants.
Do not hesitate to contact us if you wish to learn more about our experiences from the Chinese market or how you could join the Health by Sweden Tmall store.
Johan Lennefalk, Market Manager Beijing
johan.lennefalk@business-sweden.se
Windy Liu, Project Manager Beijing
windy.liu@business-sweden.se