Silicon Valley and Hollywood may be the world's best-known clusters. This is what the renowned economist Michael E. Porter wrote back in 1998, in his groundbreaking study Cluster's and the New Economics of Competition.
Just one year earlier, in 1997, one of Europe's most innovative and influential clusters for life science companies – Medicon Valley – officially came into being.
This growing hotspot for biotech, medtech and pharmaceutical manufacturers and developers spans the geography of Zealand in eastern Denmark and the Skåne-region of southern Sweden. More than two decades after its formation, it now employs some 40,000 people.
The Lund, Malmo and Copenhagen region is home to no fewer than nine world leading life science universities and a vibrant research community. As such, it is no surprise that more than 350 companies – from multinationals to innovative start-ups in orphan drugs – have chosen this corner of Europe as their base for healthcare manufacturing and R&D.
What is more, on the Swedish side of the Öresund strait, several mid-sized manufacturers are currently on the upswing.
Malmo goes full steam ahead
Within a concentrated radius in Sweden's third largest city, leading life science companies in everything from biotech to medtech and e-health are currently expanding their business footprint.
Bioglan is a case in point. This Malmo-based specialist in active compounds and semi-solid products including gels, ointments, creams and liquids, has seen 100 per cent growth over the past three years, expanding its staff from 50 to 125.
According to Bioglan's CEO Simon Björklund, several factors drive new investments at the company's facility situated near Malmo's main port.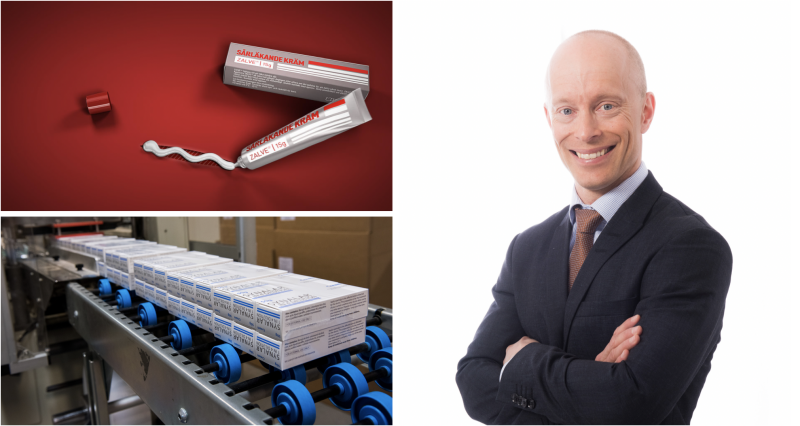 "We are building a new packaging line to comply with the EU's new serialisation regulation. At the same time, we are transferring all production of topical skincare products from our factory in Spain to our Malmo lead site. It makes more sense to consolidate manufacturing here despite lower costs in Spain," he explains.
Bioglan is a contract development and manufacturing organisation (CDMO) owned by the Spanish pharmaceuticals group Reig Jofré. The company supplies topical skincare products to customers and patients in both Sweden and in global markets, from Europe to the Middle East and New Zealand/Australia.
"By expanding our operations in Malmo we can control the entire value chain," Björklund continues. "Our most skilled personnel are based in Skåne where all development takes place at our pilot plant. Drug manufacturing takes many years from start to finish and cutting lead times wherever possible is a crucial task."
Bioglan's close links to Lund University means the company can take part in joint research projects and share risks in the stages of drug development.
In addition to the world class talent and research infrastructure that Skåne provides, Björklund points out that Medicon Valley is seamlessly integrated with the rest of the continent. This, he says, makes the region internationally attractive.
"When they complete the new tunnel between Denmark and Germany in the next decade, Hamburg will be closer to us than Stockholm in terms of travel time."
"It makes more sense to consolidate manufacturing in Sweden despite lower costs in Spain," says Simon Björklund, CEO, Bioglan.
New horizon for SMEs
When two pharmaceutical giants, Astra Zeneca and Baxter, decided to scale down operations in Malmo and Lund in 2012 and 2018, the announcements sent shockwaves through the local life science community. Could southern Sweden's healthcare industry survive two heavy blows?
For a while, this question seemed to overshadow all progress including the rise of SMEs and start-ups that were busy shaping a new path to prosperity.
As it turns out, Malmo's pharmaceuticals sector is not only alive and well but thriving in every sense. Rechon Life Science, another fast-growing contract manufacturer for liquid products (aseptic processing) with 180 employees, also proves the point.
Located a stone's throw away from its neighbour Polypeptide Laboratories in central Malmo, Rechon is experiencing remarkable growth with an increased turnover of 30-40 per cent for the third year running. This has led to growing pains and increased recruitment needs, which are altogether positive says Roland Holmqvist, the company's CEO.
"It's a pleasant challenge to be facing. Our goal now is to cut lead times and double our capacity. This means we will move from semi-automatic to fully automatic production lines while doubling the number of parallel shifts".
"More people are employed in the life science sector in southern Sweden today than 20 years ago," Holmqvist points out.
To meet accelerating demand from customers in Sweden, Europe and the USA, Holmqvist and his management team have decided to invest at least €4 million at Rechon's Malmo site in 2019, to ramp up production of aseptic vials, syringes, oral and nasal sprays and other products.
"Our competitive edge is not price but technical know-how and flexibility in orphan drugs manufacturing. We host customers on site every week so they can take part in the development stages. This is highly appreciated and Malmo is easy to get to thanks to its close proximity to Copenhagen's international airport," he adds.
Good to go: QPharma expands operations in Malmo following the US's FDA approval for a new contraceptive product
Top marks for quality
Recruiting skilled engineers, operators, validation experts and automation managers close to where development takes place, or nearby at the very least, is recognised by both Bioglan and Rechon Life Science as a foundation stone for success.
This sentiment is echoed by another innovative CDMO in Malmo – QPharma – which is due to unveil a new factory in Malmo this summer. When it comes to handling highly potent, active pharmaceutical ingredients (APIs), QPharma is in a league of its own.
Since the 1970s, QPharma has perfected its skills in a life science niche that requires containment facilities and highly qualified operators, and the company is now celebrating a major milestone.
The QPharma customer Population Council, a US-based non-profit, has just received FDA approval (US Food and Drug Administration) for a 1-year contraceptive vaginal ring following 15 years of co-development. This is set to open up massive market opportunities in the USA and further afield while helping to fast-track womens' health initiatives in under-developed regions of the world.
"Sweden has a reputation in America for high quality which appeals to all our customers including non-profit organisations and global pharmaceutical companies. We have a culture of openness and reliability, which are essential values in long-running partnerships," says David Segerberg, Deputy Managing Director, QPharma.
The company has been quick to scoop up skilled former employees from Astra Zeneca and Baxter while expanding into new facilities. QPharma already has 200 employees and plans to reinforce its team this year with a further 30 staff.
"Automation is key to our manufacturing process. There is a high concentration of advanced automation expertise here, which is a further reason why Malmo is an attractive location for us."
The new serialisation regulation, which means that each product will have its own identification number, will affect an estimated 22,000 packaging lines in Europe. QPharma has reconfigured eight packaging lines and installed new machines to ensure compliance in the EU, USA and other markets.
In February 2019, QPharma won Malmo's official Life Science Business Award for its "world class development, production and sales capabilities."
"I am very pleased that so many life science companies are doing well in Malmo," Segerberg concludes. "Most of them have found their own originality and niche, which is why I believe they have now been propelled to a frontline position in Medicon Valley."
Pushing the frontiers
As investments ramp up in Malmo, the innovation community in Lund, some 18 km away, is rapidly expanding too. Here, visitors to Medicon Village Science Park can get a firsthand look at how recent efforts have paved the way for a major life science comeback in southern Sweden.
Within a year of Astra Zeneca's closure, Medicon Village was inaugurated at the company's former premises with a floor space of 80,000 sqm. The building now provides a national platform for joint research projects and entrepreneurship. It is also the permanent base of 120 member organisations and 1,600 researchers and co-workers.
Further expansion plans will include both new residential homes and a hotel, making Medicon Village both larger and more dynamic than Astra Zeneca's R&D facility ever was at the height of its glory.
In the international commercial arena, companies such as Bioglan, Rechon Life Science and QPharma are set to become the torchbearers for southern Sweden's prowess in highly specialised fields of modern life science.