White coats, laboratory masks and a subdued, spotless environment. No overalls, assembly lines or traditional industrial machinery in sight. This is the face of the manufacturing revolution now in full swing within the industrial group Sandvik, a world leader in metal cutting tools and materials technology with more than 43,000 employees in 150 countries.
Sandvik, established in Sweden in 1862, reached a new milestone in 2013 when it decided to establish a state-of-the-art innovation lab for metal additive manufacturing in Sandviken, at the group's largest production site in the province of Gästrikland. Few visitors are granted access here, but those who do get a glimpse behind the scenes would be forgiven for thinking they have entered a top secret research lab at IBM or NASA.
At this bustling R&D facility, very little is reminiscent of the past, with the possible exception of scattered pallets containing unique additive prototypes of metal parts. And in recent months, these pallets have been rapidly filling up.
"The move from being an R&D and prototyping tool to becoming a fully fledged production technology has accelerated. We have just launched our first AM product and there are more to come next year. We are in an expansion phase, where we are adding both machine capacity and key competence," explains Mikael Schuisky, Head of Operations at Sandvik's Additive Manufacturing unit.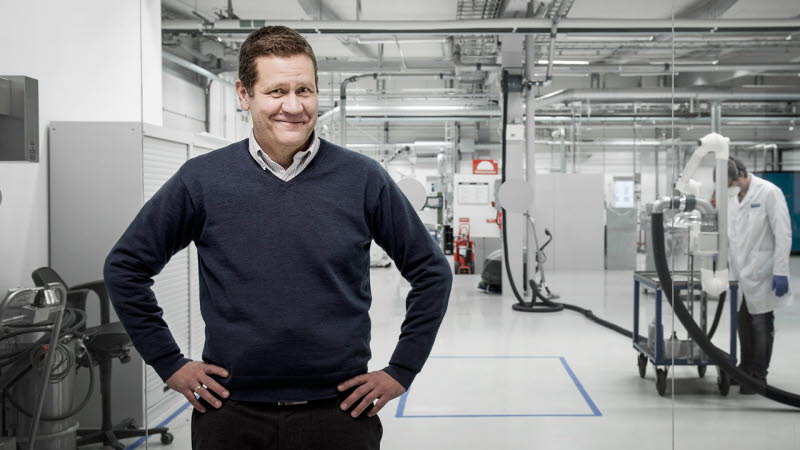 New era for complex parts

It is no coincidence that Sandvik decided to be a pioneer in the development of new, innovative cutting tools and other components using additive manufacturing. Over the last decade, the company has supplied customers in a variety of industries, including aerospace and medical, with fine metal powders for a range of AM-machines that print metal objects, layer-by-layer, from 3D CAD data.
A lesser known fact is that 25 per cent of the world's supply of all types of metal powder is provided by Sweden. Powder bed fusion is the most commonly used additive technique, but Schuisky and his team of material scientists and technicians have made a deliberate choice to take things two steps further.
"We currently have a number of machines installed at the R&D centre representing three different technologies for metal additive manufacturing. This broad span allows us to build deep knowledge about the different technologies, including how customers use our metal powders, but also how to optimise our own output of components," he says.
A future of near limitless possibilities, increased speed of prototyping and larger scale production is getting closer.
Sandvik's investment in additive manufacturing means, for example, that it can dramatically cut material waste and make components that are considerably lighter. More importantly, it paves the way for complex design features such as internal cooling channels. This is expected to unlock a quantum leap in performance – giving tomorrow's cutting tools better vibration control and longer service life than tools built with conventionally machined parts, to mention a few benefits.
The mission: taking additive manufacturing mainstream
Schuisky and his team are now on a mission to ramp up activities. With Sandvik's proud tradition of world class expertise in materials technology and metal cutting, he pulls no punches in sketching out the future path.
"Besides our external AM-business, our aim is to be an enabler for additive manufacturing within the Group and support all of Sandvik's business areas. We have built up an entrepreneurial spirit in our team and the challenge now is to get designers, research staff and product managers in other parts of Sandvik to explore opportunities for making smarter tools and components. AM is a huge enabler for parts with complex geometries," he says.
While it is early days yet, metal additive manufacturing is set to take manufacturing by storm. The technology is only relevant for a small share of all metal components produced in the world today. That said, few would deny that Sweden's advanced competence in metallurgy and metal powder is a powerful competitive weapon. Indeed, one of Sweden's largest R&D centres for AM has under Schuisky's stewardship already set the bar high.
But, as Schuisky concludes, more focus on education and knowledge-sharing is key to 'cracking' the market.
"If more universities work hard to incorporate additive manufacturing in engineering courses so that talent can emerge faster, then Sweden will be in a very strong position," he says. "It is about making the entire value chain smarter. Together with other companies who are doing great work within their own areas of AM-expertise, we intend to lead the way forward."