Did you know that Sweden produces more than one-quarter of the global supply of metal powder for additive manufacturing? Take a tour of the nation's fast-growing AM market and its key players.
Wherever you look in Swedish manufacturing today, people are either talking about the transformational benefits of "printing" metal objects layer by layer – such as complex machine parts – or indeed putting the technique into practice. Early adopters are already at the frontline of global progress.
Studies now confirm that Sweden, which consistently ranks as the EU's most innovative country, is on the cusp of a boom in additive manufacturing (metal-based 3D printing). Aerospace components, medical implants and turbines for power generation are just a few application areas where trailblazing companies in Sweden such as GKN Aerospace, Arcam and Siemens are unlocking unprecedented value.
The big game-changer is that we can design any type of component. Additive manufacturing opens up a world of opportunity.
"By introducing 3D printing at our workshops in Finspång, Sweden, we have reduced materials consumption by 50 per cent in our production line for gas turbines. But the big gamechanger is that we can design any type of component. This opens up a world of opportunity," says Hans Holmström, CEO, Siemens Industrial Turbomachinery.
The company Arcam, which developed the Electron Beam Melting (EBM) technology in Mölndal just outside Gothenburg, spotted the potential for metal 3D printing as early as 1997. Precisely two decades later the company was fully acquired by the US conglomerate General Electric.
PRINTING THE FUTURE: AM MARKET TRIPLES
More and more Swedish manufacturers are now stepping up efforts to leverage additive technologies in the drive toward digitalisation. This has prompted the rise of new business models, dramatically reduced lead times, enabled customised products and minimised materials waste.
According to a recent survey carried out by the research institutes Swerim and RISE, the number of companies working with additive manufacturing in Sweden tripled from 2015 to 2018. Similarly, the number of researchers at institutes and in academia has increased markedly. Dozens of PhD scientists in 3D printing are now collaborating with large companies and entrepreneurs from Sweden's vibrant start-up scene.
The industrialisation of additive manufacturing is speeding ahead and there are at least 30 companies currently engaged in the AM field, the survey shows. In 2018, the sector attracted public and private research funding in the range of SEK 100 million.
"Additive manufacturing is still in its infancy and the potential is enormous. By mapping the progress we want to facilitate and accelerate activity among both researchers and Sweden's industrial companies," explains Annika Strondl, Project Manager, Swerim.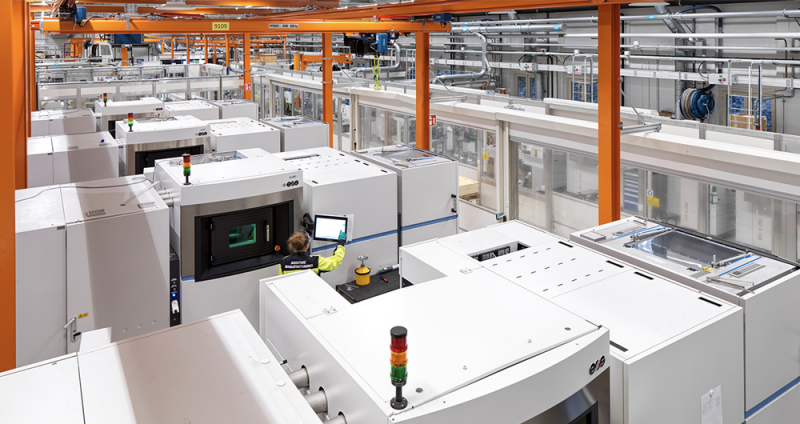 WORLD CLASS SUPPLIERS
The fact that Sweden is becoming a force to be reckoned with in AM should come as no surprise. The country has helped pioneer each of the industrial revolutions, ranging from early inventions such as the adjustable wrench to the world class robotics and automation know-how of today.
When it comes to underpinning AM development, Sweden has a powerful trump card in the Nordics – it is home to both leading OEMs and suppliers of metal powder with success rooted in centuries-long legacies of advanced metallurgy expertise.
Companies such as Höganäs, Sandvik and Uddeholm provide metal powders for thousands of 3D printing applications worldwide. Together with other Swedish suppliers they account for almost 30% of global metal powder production. This means that forward-thinking experts who offer customised AM materials are never far away.
SWEDEN'S CO-LAB APPROACH
Cross-border collaboration is engrained in Sweden's business culture and has proven to be a major advantage in the implementation of additive manufacturing. Companies often report that taking part in joint innovation projects with researchers and start-ups is easier in Sweden than anywhere else.
A good example is the collaborative platform Amexci, set up by the industrialist Marcus Wallenberg, which is helping to accelerate the adoption of AM in new application areas. With founding partners including ABB, Höganäs, SKF, Scania and Stora Enso, Amexci provides a host of services for AM companies including specialist advice and customised training.
These and other achievements point to an unmistakable conclusion: while Sweden, like most European countries, was slow to get off the ground, it now stands ready to lead the charge in expanding the practical uses of metal AM in the digitally-powered era of industry.