"It might sound like a strange business model, as we will eventually not have any customers, but our mission is to help people live happier, longer lives by quitting smoking."
Those are the words of Jody Lodge, CEO at Johnson & Johnson's Swedish facility in the southern town of Helsingborg. But strange it is not. With 400 million smokers in China alone and smoking on the rise just about everywhere else, the market for nicotine replacement products is unlikely to be stubbed out any time soon.
The J&J plant in the southern Swedish town of Helsingborg proves the point. This is home to Nicorette products, those famous gums and patches that help millions of smokers to give it up, and it's about to get bigger.
This is the place from which all Nicorette branded products around the world originate (except the patches which are manufactured elsewhere). Or as Jody Lodge puts it: "If you find yourself in Australia and go to the pharmacy and see Nicorette gum by the checkout, tell your friends you know where it's made!"
Now, to meet the ubiquitous demand, J&J, through its subsidiary McNeil AB, is investing some EUR 20 million in upgrading the facility to step up the production of Nicorette branded products, as well as new products coming into the portfolio such as Rhinocort nasal spray.
Expanding the Helsingborg site
Besides increasing its production capacity through upgrading existing lines and installing new equipment, the expansion plan includes the installation of a fully automatic packaging system at a J&J-owned facility nearby.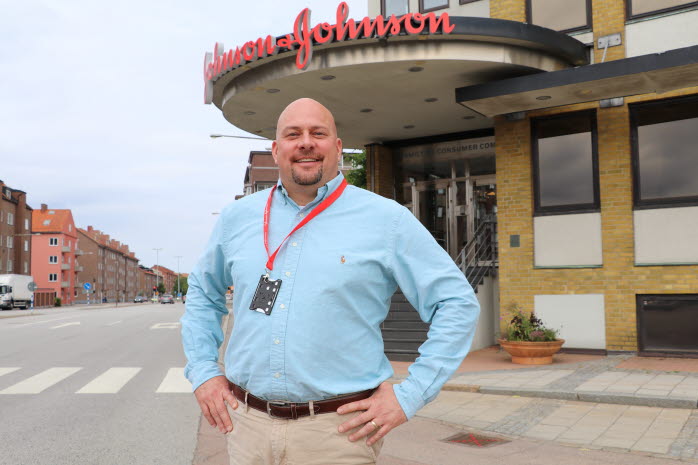 Appropriately enough, the decision to expand marks the 40th anniversary since Nicorette gained its first official approval for European sales. Switzerland got the honour in 1978 followed by Sweden in 1981.
Even more appropriate perhaps, is that the project is part of a broader-based vision of the future.
"About three years ago we created a vision of the future for ourselves which we called Mission Possible," explains Lodge. "It consists of three pillars – supporting the growth of our brands, being the preferred choice for both existing and new products, and being the most inspirational place to work in the region. Our decision to expand is linked to all of those things."
"Unfortunately for humankind, the number of smokers is increasing every day. At the same time, more and more people are trying to quit so our market is constantly growing."
According to the World Health Organization (WHO), there are still more than 1.1 billion smokers on the planet, in spite of sharp declines in smoking in the western world and the increasing use of alternatives such as electronic cigarettes.
But the fight goes on with J&J in the vanguard and technology innovations developed in Helsingborg.
R&D breeds innovations
Nicotine studies conducted at J&J's own research facility in Helsingborg have played a large part in the company's success and growth. Besides gums and patches, inhalers, sprays and lozenges are also sold under the Nicorette® brand.
Innovation is, however, nothing new to the 49-year old American whose career with J&J spans 18 years. He started off in manufacturing in California, moved on to medical device manufacturing in Switzerland and then to Sweden where he took over as chief executive last year, 2017.
In many ways, he seems to have found his Shangri-La. "Sweden is a great place to be," he says. "It's easy to do business here and the people are warm and really engaged in what they do. They've got a passion for the business and in general it's a great place to work."
He quickly adds, proudly, that the company was recently voted the best manufacturing workplace in the country – "a tremendous accomplishment for us."
Pharmaceuticals has been a cornerstone of Helsingborg's industrial history for more that 100 years, and today J&J is one of the biggest employers in town with a staff of more than 600. Despite this, its activities, by and large, are somewhat of a mystery to the general public. That's something Lodge aims to change.
Footnote: Nicorette was developed in 1968 after two doctors in the southern Swedish town of Lund asked the Helsingborg-based pharmaceutical company Leo Läkemedel AB if it could invent a nicotine replacement product. The idea was to help professionals cope with nicotine abstinence in workplaces with smoking bans, including the Swedish Navy and its submariners at sea.