Moving towards a circular economy is the next frontier of sustainability. But so far, very few companies can demonstrate real-world evidence of transformative progress.
"Most circular initiatives today are piecemeal and don't address the systemic challenges we face," says Mats Linder, Head of Consulting at Stena Circular Consulting, part of Sweden's largest recycling company Stena Recycling Group.
Linder's remarks undoubtedly reflect the stark reality revealed in the 2021 edition of the Circularity Gap Report – which confirms that just 8.6 per cent of our world is circular. The urgency of moving away from the linear "take, make, waste" approach to production and consumption couldn't be more obvious.
At the same time, his view on current achievements in manufacturing would perhaps in the eyes of some consumers seem a little too modest.
SHOWCASING THE FUTURE: WORLD'S FIRST CIRCULAR VACUUM CLEANER
Recently, Linder's colleagues at Stena Circular Consulting teamed up with Electrolux, one of the largest manufacturers of home appliances globally, to reimagine long-standing production methods. The mission was clear: to develop a prototype of the world's first circular vacuum cleaner and create a market for recycled plastics.
What does 'circular' mean in this context you might ask? Simply put, a new vacuum cleaner made of 100 per cent recycled and reused materials.
The prototype circular vacuum cleaner was hailed a success in late 2020. Since then, Electrolux has pledged that all of its product ranges will be manufactured using at least 50 per cent recycled plastics by 2030.
This is a significant commitment given that less than 12 per cent of the more than 400 million metric tonnes of plastics produced globally every year come from recycled materials.
"Our partnership with Electrolux proved that it is possible to manufacture common household appliances without using finite, virgin raw materials that come with a high emissions price tag," Linder explains.
"The circular vacuum cleaner met all the usual standards for quality assurance and testing despite being built with reused components. So it was an important proof of concept here in Sweden."
WILLINGNESS TO EXPERIMENT IS KEY
The typical conundrum that companies face today as they begin to reassess production strategies is to define the basic criteria for a circular business model.
For example, if a manufacturer achieves a very high level of recycling and reuse in its materials flows but sells products in the traditional way, does it tick all the boxes for circularity? Mats Linder has a few thoughts to clarify the issue:
"There are many definitions of what constitutes a circular business model and none of them are entirely satisfactory in my view. The important thing is to consider the three basic principles for circularity – design out waste, keep products and materials in use and regenerate natural capital.
"I think business models that live up to at least one or two of those principles are circular by today's definitions. The key starting point is to have a willingness to experiment. That is exactly what Electrolux had which inspired a degree of maturity in the company. One step in the right direction often leads to another," Linder says.
Despite the chilling assessment presented in the Circularity Gap Report, there is also a hopeful message indicating that every positive step does indeed matter.
Looking beyond what the report calls the "narrow energy focus of the current climate pledges", it makes clear that circular strategies alone have the power to reduce global greenhouse gas emissions by as much as 39 per cent, and cut virgin resource use by 29 per cent.
But for this to happen, Linder points out, companies and policymakers need to embark on a paradigm shift involving both system-wide solutions for circularity and new business models.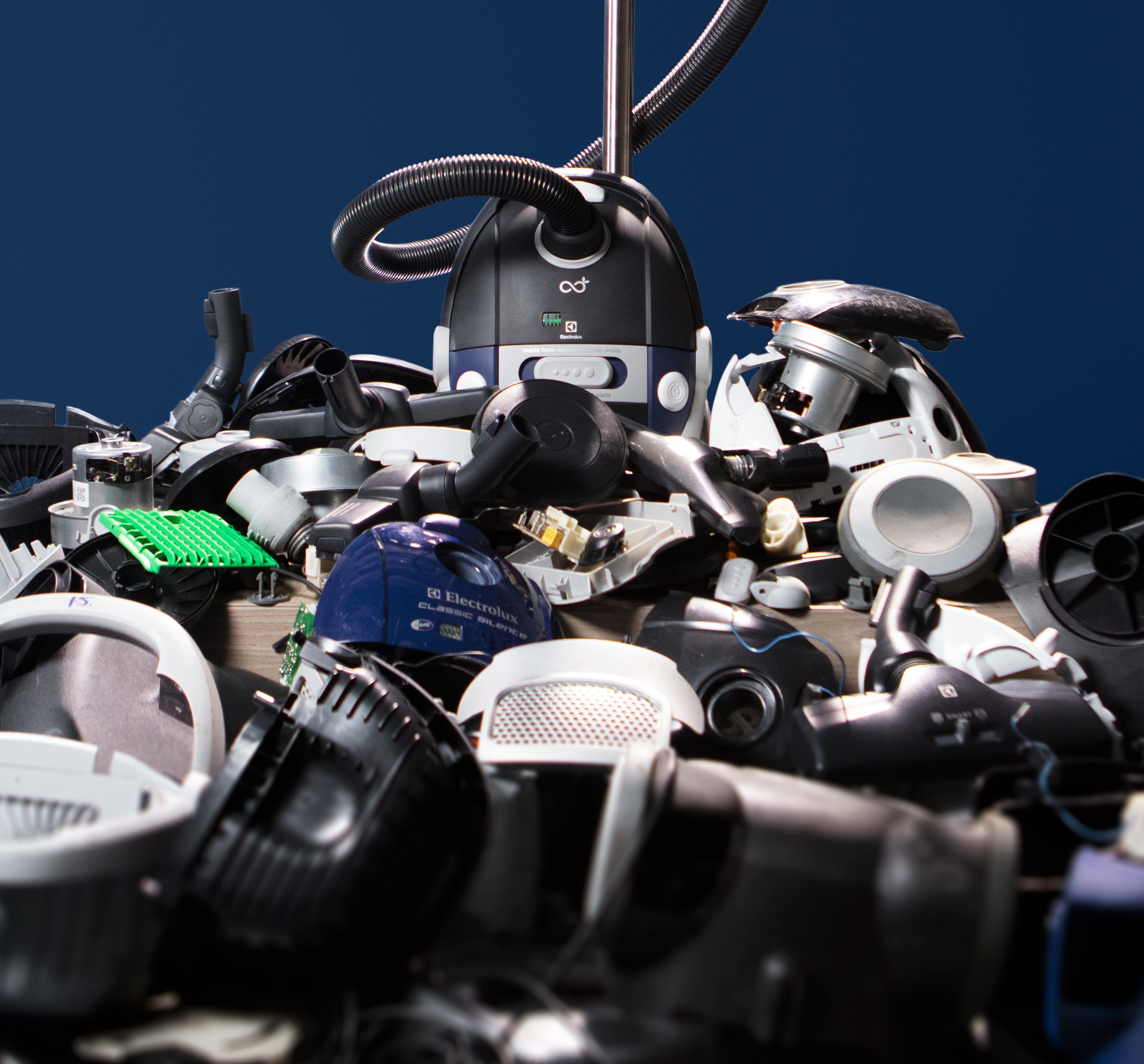 SERVICES – THE BIG CATALYST FOR CIRCULARITY?
The ongoing debate around circular manufacturing tends to focus heavily on materials innovation. But according to Mats Linder, the most powerful enabler of sustainability here and now is the shift to service-based business models.
In the new era of industrial services powered by digital platforms, companies can gain full visibility of any product's performance and status and take charge of materials management.
"By selling the outcome of a product, for example the number of drilled holes instead of a drill machine that you previously never saw again, you can now control where the product ends up over its entire lifecycle. You can decide to have it refurbished, remanufactured or recycled.
"This is currently the most effective way of keeping materials in use and avoiding landfills and extraction of virgin raw materials. I often say that the best way of tackling recycling of complex materials is to not have to recycle them at all," Linder underscores.
FAVOURABLE CONDITIONS IN SWEDEN
As is often the case, startups and SMEs are at the frontline of the push to shape the circular economy of the future. Europe is currently the region that is most advanced, but in Sweden, innovators have the additional advantage of favourable conditions.
These range from a green energy grid with the EU's highest share of renewable energy, to a dynamic innovation environment where the private sector, government agencies and research institutions collaborate closely.
Not only that, Sweden ranks among the top OECD countries for circular economy legislation and is rich in industrial symbiosis networks. In fact, it is one of the few places in the world where it is relatively easy to loop excess heat from factories into residential homes, turn gas into biofuel and wastewater into fertiliser, to mention just a few examples.
Andreas Scheibenpflug, Head of Business Ecosystem at Business Sweden, highlights the importance of taking a new approach to private-public partnerships to facilitate change.
"Co-creation lies at the heart of the transition to a circular economy. Startups, research institutes and large companies must come together to solve issues one by one. We are seeing exciting, industry-wide examples of this in Sweden where diverse stakeholders are partnering up for sustainability."
RISE OF SWEDISH CHANGEMAKERS
Having spent more than six years working with circular economy initiatives in the packaging industry, Mats Linder at Stena Circular Consulting knows how to pinpoint the biggest challenges – and to single out the changemakers.
Packaging, he says, is an area that every consumer can relate to, and so it is a natural focal point in today's debate.
"We are good at reducing the amount of plastics in circulation in Sweden and replacing them with fibre-based alternatives, but that is not a universal solution. Paper packaging often has a thin layer of laminated film which is tricky to recycle."
A number of fast-growing companies in Sweden are now stepping up efforts to close the recycling loop in both plastics and disposable packaging.
"Sweden has innovative startups such as &Repeat and Bower that are leveraging digital platforms to improve recycling and reward consumers via apps when they change behaviour."
"We still have a long way to go. What society must do now is to invest more in designing a holistic ecosystem for the circular economy. That is what will put us on track toward meeting zero-emissions targets," Linder concludes.
Read more about Sweden's Smart Industry ecosystem here.